Amended February 2020

WEIGHT DISTRIBUTION

One of my arguments for using compensation as opposed to springing of any sort has been the simple fact that weight distribution can be more easily controlled using the constant factor of gravity, rather than the variability of springs.

I have now (finally) built a mechanism which allows me to measure the actual axle loadings, and so to ensure that there is an appropriate proportion of loading on each axle, for road-holding purposes, and also for haulage purposes (of greater importance for four-coupled locos and singles).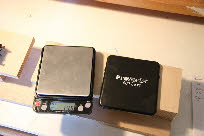 The device is fairly self-explanatory. It is based on 'PROSCALE' miniature weighing scales, capable of measuring to 1/10th gram.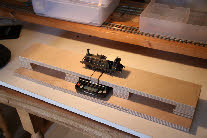 The photo (right) shows the unit - rigid supports either side, with the scales underneath, and a small free-floating section in the middle, resting on the scales.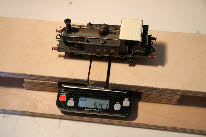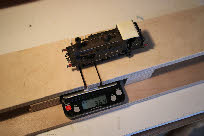 The scales can be zeroed with this free-floating section in place, and then each axle in turn can be 'weighed'. For some reason which I haven't quite worked out, the 'weight' of each axle isn't stable - it varies up and down by a few grams and never seems to settle on a specific reading before the scales time out and switch off (about 30 seconds).

However, notwithstanding this, the measurements are accurate enough to check that the axle loadings are reasonably well balanced.

The tables below show axle loadings (grams) for all of my locos. All are fully compensated., apart from D1 297 which is a 'pre-owned' model with CSB's.

One might expect that the weight on the two axles with side-beam compensation would be the same, but of course one of them carries the additional weight of the motor and gearbox (or a proportion of it). The bright green indicates which axle is the driven one, (always with side beam compensation, apart from the 0-4-0's which have a rigid driven axle) and the paler green indicates the other axle with side-beam compensation. The third/fourth axle(s) have a centre pivot, or centre beam.

The tender engines are all built with the motor/gearbox in the firebox, and the weighted tender hanging off the drawbar. The D'bar weight' indicates the weight on the drawbar, adding to the overall weight of the loco. The leading wheels of the tenders float freely, held down by a small weight (hence the light axle loadings). The table below shows the weight distribution as built prior to any modifications made as a result of my experiments.