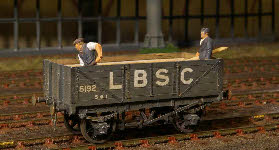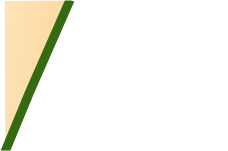 Last updated March 2021

In the period 1900-1910, three separate liveries would have been seen on the Brighton railway. Up until 1905, coaches were either varnished mahogany, or painted to look like mahogany. From 1905 onwards, when D E Marsh took over as CME, coaches were painted umber and white, and from 1908 the livery was simplified to lined umber.

The photos on this page feature coaching stock in the mahogany period, designed by William Stroudley or R J Billinton.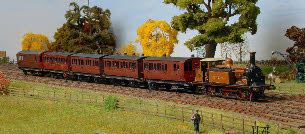 On the left, is a train of mostly Stroudley 4-wheel stock, headed by D1 Rottingdean, as the down 'race-day special' for Plumpton races. The rear vehicle is a Billinton 6-wheel full brake. The 4-wheelers are Roxey kits, and the 6-wheel brake is from D&S.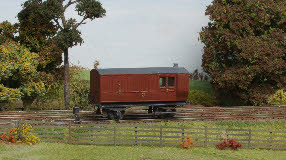 On the right is a scratchbuilt Stroudley 4-wheel brake.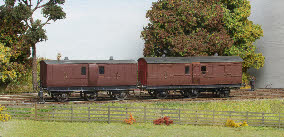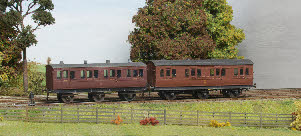 Billinton discontinued production of 4-wheel stock, building only 6-wheelers until around 1900. Stroudley designed only two 6-wheel vehicles, a 4 compartment 1st, and a full brake. The Billinton vehicles are recognisable from their higher roof profile, as shown in the photos left, of a Stroudley and a Billinton 1st, and right, two full brakes.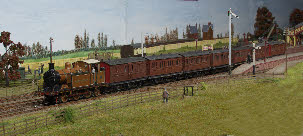 The photo, right, shows a train of mostly Billinton 6-wheel stock, with a couple of Stroudley 4-wheelers in the middle, heading away from Plumpton Green, bound for London, headed by E5 Lordington.

The five 6-wheel vehicles were all scratchbuilt in 1980, before any LBSCR coach kits were available (apart from the dreadful Keyser white-metal efforts). I finished these coaches just before Microrail started producing a range of Billinton 6-wheel stock. The Stroudley 4-wheelers are Roxey kits